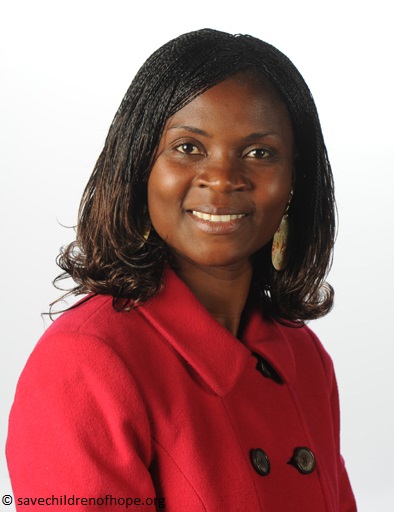 "You can achieve your dreams, with hope and determination. All is possible."
Susan Nandwa hails from tiny village in Western Province, Kenya. She was born and brought up in Ebutayi village in Butere district. From very humble beginnings, very few ever imagined that Susan would make headlines with her charity work. Susan started going to school in 1980, and all through her primary education, she worked in farms to assist her parents to raise some money for up keep.
In 1987 she completed her primary school but her poor parents couldn't raise any money to take her to high school. Her parents decided to give her to a relative - mama Grace Okiya - who employed her as a housemaid. Mama Okiya saw Susan's interest and potential in learning and decided to take her to high school. In 1989, due to painful circumstances beyond mama Okiya's control, Susan dropped out of school but she never stopped there ... Her parents, still struggling with poverty decided it was time for Susan to get married. Her mother married her off and received Ksh200 (about 2 euro) in dowry. She escaped from her marriage and went back to her mother but, due to cultural beliefs, she was not welcomed home. She then left for Kenya's capital, Nairobi, to look for employment.
She found shelter in Korogocho, one of Kenya's biggest and most infamous slums. Life in the slums was unbearable. In 1990 Susan moved out of slums and started working as a househelp. She worked in middle class homes before moving to rich homes, still in Nairobi. She worked in several affluent neighborhoods including Muthaiga, Lavington and Runda. It is in Runda that Susan's life took a turn as her boss, Mark Shurland- a that time the United Nations Deputy Security Adviser, allowed her to go back to school. She worked as a househelp in the morning and went to school in the afternoon. Mr. Shurland later left Kenya and Peter Marshall, a former UN Chief Security Adviser, continued supporting her to finish school.She registered as a private candidate and sat for her KCSE (Kenya Certificate of Secondary Education) exams and went on to do secretarial courses.
In 1996 she joined the Kenya Broadcasting Co-operation (KBC) as an actress. As a talented artiste, Susan featured in several local Soap Operas like " Majaliwa " and " Will of Fortune". After a short while, she secured a job with Flamingo Motors in the city's Industrial Area where she worked as a receptionist. She worked for several companies including Agro Manufacturing and Woodcraft Industries. But Susan was determined to achieve more. She moved to Swissport Kenya, an affiliate company of Swissair, at Jomo Kenyatta international airport. In 1999, while working for Swissport, she met her husband, who was a pilot of a humanitarian flight. In 2001 they got married in Kenya and settled in Ostend, Belgium. Susan is blessed with a family and is a dedicated mother. In 2008 she formed " SAVE CHILDREN OF HOPE ORGANIZATION ".